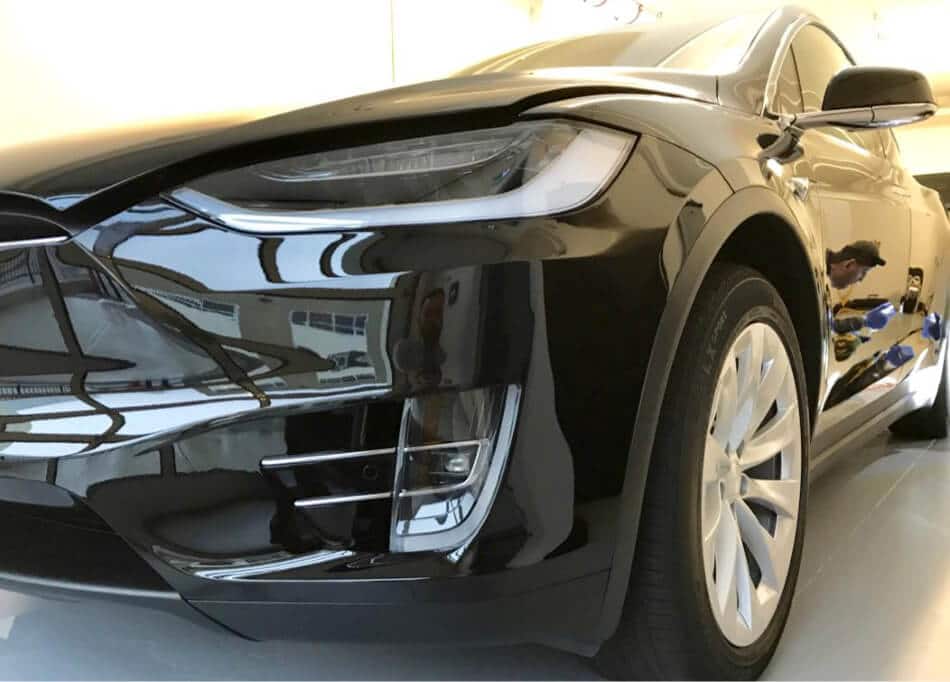 18 Feb

About Tesla Paint Problems And Clear Coats

You visited Vancouver Tesla showrooms for months, read countless forum posts about Tesla paint problems and presumed quality control issues and yet, you want that Tesla. Why? Teslas are cool! Teslas are electric. Tesla's standard options are a car geek's dream, including leading-edge high-tech features like smart air suspension, collision avoidance and automatic emergency braking, keyless entry, Hepa filtration, and maps and nav with real-time traffic routing. Did we mention Teslas are cool?

Maybe you went all in and added optional features such as Enhanced Auto Pilot, Hepa Filtration with Bio Weapon Defense Mode and Zombie Apocalypse Mode. We're kidding about the last feature, but we think Tesla should consider it. 😉

The day you've anticipated for months finally arrives and you take delivery of your Tesla. It drives like a dream. Its quietness is disconcerting, ghostly, the coolness only matched by the power and torque of its immediate response – 0-60 mph in a Tesla S P100D in "Ludicrous Mode" – the quickest accelerating production vehicle ever made. On the lot and at home, you inspect your new Tesla and you worry about the paint. Your partner thinks your concerns are obsessive and unhealthy. You go back to the Tesla forums, read more horror stories from Tesla owners and now you know exactly what imperfections to look for. After several days of driving your new Tesla, you notice swirl marks in the new paint and small paint "splotches". Obsessive, huh? Unhealthy, huh? Is it Tesla? Is it you? Is it Zombies? Read on!
The Truth About Tesla Paint Problems
So, does Tesla have paint problems and other quality control issues? Yes, but paint problems and quality control issues will also be found in BMW, Audi, Mercedes, Ferrari, Rolls Royce, Bentley and other luxury vehicles and supercars.
Do a Google search for "Tesla paint problems" and you'll find page after page of Tesla owners complaining on forums or documenting quality control issues on video. Guess what, though? You'll find similar QC and paint problems being complained about when you Google "Jaguar paint problems", "Mercedes paint problems" or "GMC truck paint problems". Do an experiment: Google any vehicle manufactured followed by "paint problems" and you'll get the same kind of search results – pages of results of owners complaining.
Why are there so many complaints about Tesla quality control?
Owners of luxury or exotic vehicles pay more for their cars than others and expect higher quality. When they don't get it, they're disappointed.
Luxury car owners value aesthetics and are probably more prone to noticing imperfections.
Factory paint jobs and clear coats are not perfect – they aren't a force field, and finishes, even on new cars, are imperfect and will become more marred over time, regardless of manufacturer or model.
Tesla gets a lot of scrutiny and there is a lot of news and chatter online. Tesla owners are rabid fans and quite plugged in online. The volume of complaints is always louder than the volume of praise. Negative news gets attention!
Tesla owners' expectations are high as a result of all the hype (and coolness). When Tesla falls short, owners feel disappointment.
The results of comparing Tesla's paint and clear coat thickness with that of other car makers shows that Tesla paint and coating are in range found in other manufacturers' vehicles. What's the problem, then? There is a lot of speculation, but many Tesla owners point out that the state in which Tesla is made, California, has strict environmental protection laws that require manufacturers use water-based paints instead of solvent-based paints (which are thought to be more durable).  Water-based paints are said to be softer than solvent-based paints. It should be noted that other US states are introducing regulations to limit the VOCs (volatile organic compounds) found in solvent-based paints.
It's not that water-based paint is worse than solvent-based paint, although according to experts, they do require near perfect preparation.
A disadvantage is waterborne is much more sensitive to what's underneath it. If the bodywork and paint prep isn't near perfect, any imperfections will show up almost instantly because of the thinner mil thickness. – Water vs. Solvent at SuperChevy.com.
Our Experience with Tesla Paint Problems
Our Vancouver auto detailing shop has applied opti coat ceramic coating to countless luxury and exotic vehicles, and in our experience, Teslas do show swirl marks and scratches sooner and in greater quantity than BMW and Mercedes. We've applied ceramic coating to several new Teslas (a few months off the lot) and were surprised at the imperfections we saw when preparing the vehicle for coating. This is subjective of course and we readily admit that we see similar problems in other newish luxury cars. It could be that because of the buzz about Tesla paint problems, we've seen a LOT of Teslas lately, so our perceptions could be skewed.
The Bottom Line
New vehicles aren't perfect. If you've just purchased a new Tesla, Jaguar, Audi, BMW, Mercedes or other luxury vehicle, don't expect factory paint finishes to be flawless, bullet-proof wonders of modern technology! We agree that they should be, but they are not! We may never know whether the "Tesla soft paint" problem is a problem with Tesla quality control, paint and clear coat, or an industry-wide problem that's always existed, but that we are now noticing because of all the buzz and scrutiny Tesla gets.
One thing is certain, owners of high-end vehicles chase perfection. While you can't get paint perfection, you can certainly come near with ceramic coatings and car bra or paint protection film.
Does Your New Tesla Have Paint Problems?
Let us know what you think. Do you live in Vancouver or Richmond and have a new Tesla with paint problems? We'd like to hear from you. Book a free consultation and we'll inspect your new Tesla and recommend paint correction and paint protection that will keep the paint job looking new for years to come.